Special Events for Xmas 2011!
Posted Wed, Dec 21, 2011 5:42 AM PST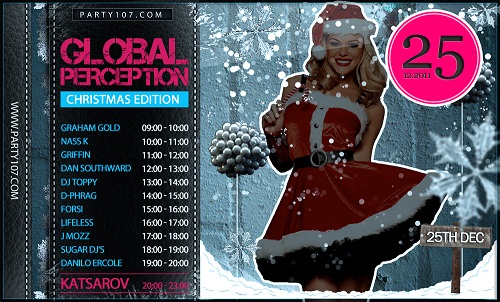 Party107 wishes you and your family a happy holiday season. Since you've been so good this year, we've got two special events for you this Xmas weekend...though they're likely too big to fit in your stocking!


First, on Xmas eve, Ant Attwood will be counting down the top 50 tracks of 2011 in a LIVE 6 hour broadcast from the UK. A special in-studio guest might also show up. The Top 50 show starts at 12:00 PM Eastern / 18:00 CET / 17:00 UK on December 24th.


On Sunday at 2:00 AM Eastern / 08:00 CET / 07:00 UK, Katsarov's Global Perception presents a special 14 hour Christmas Edition with 12 DJs. The full lineup for this event includes:


Graham Gold

Nass K

Griffin

Dan Southward

DJ Toppy

D-Phrag

Forsi

Lifeless

J Mozz

Sugar DJ's

Danilo Ercole

Katsarov