1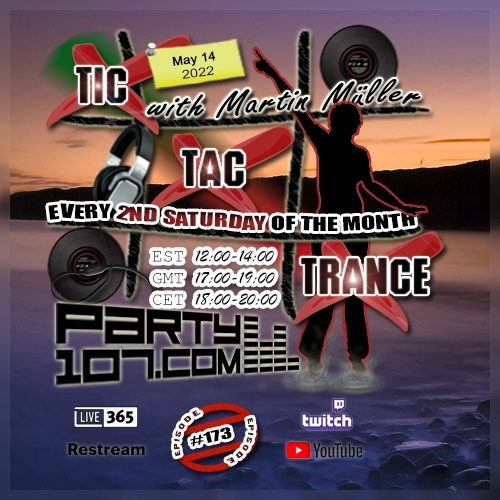 Tic Tac Trance is back on May 14 2022!
You can expect for
episode #173 an uplifting 2 hours underground trance mix
, which features tunes and remixes by artists like
Bryan Kearney, Robert Nickson, Dan Stone, Nikolauss, Rene Ablaze
and of course and many many more!
You can support me with
Liking and Subscribing
to my channels
Twitch.tv/TicTacTrance
and
Youtube.com/TicTacTrance
, so you don't miss any updates! The stream will start a couple of mins earlier, check
Facebook.com/TicTacTrance
for more details!
My show will air on May 14 2022 at 18 CET / 17 GMT / 12 EST. Check out your local time
HERE
!

01. Tic Tac Trance - Intro [www.TicTacTrance.com]
02. Alex M.O.R.P.H. - Calling Berlin (Extended) [Vandit]
03. Indecent Noise - Song Of The Fallen King (Original Mix) [Mental Asylum]
04. Alex Di Stefano - Black Flag (Extended Mix) [Skullduggery]
05. Gareth Emery feat. Roddy Woomble - This Is Not The End (Extended Mix) [Well Be Ok]
06. Lost Witness & Roberta Harrison - Close To Home (Extended Mix) [Pure Trance NEON]
07. Robert Nickson - Delyo's Voyage (Extended Mix) [Pure Trance]
08. SoundLift & Susanne Teutenberg - Hoping Against Hope (Extended Mix) [Amsterdam Trance]
09. Nikolauss - Kogaionon (Extended Mix) [Subculture]
10. Sneijder - Magika (Extended Mix) [FSOE]
11. Nick Callaghan - A New Day Rising 2022 (Extended Mix) [Afterdark]
12. John Askew - Bat Shit Crazy (Extended Mix) [FSOE]
13. Midway - Cobra (Talla 2XLC Extended Remix) [Nocturnal Knights]
14. Dan Stone - I Need You (Extended Mix) [GO Music]
15. BiXX - Mantra (Corrado Baggieri Extended Remix) [Trancespired]
16. NG Rezonance, Bryn Whiting & PHD - Captivate (Original Mix) [One Forty]
17. Simon Bostock - Reflect (Extended Mix) [Borderline]
18. SMR LVE - Light Up The Sky (Rene Ablaze Extended Remix) [Coldharbour]
19. Casey Rasch - Infinite Worlds (Extended) [Vandit]
20. Gigi D'Agostino - Bla Bla Bla (Matt Bukovski Remix) [CDR]
21. BiXX & Daisy Lou - After Dark (Extended Mix) [Nocturnal Knights]
22. KLF - What Time Is Love (Peter Steele Remix) [CDR]
23. Ciaran McAuley & Clara Yates - Anything (Extended Mix) [Black Hole]
24. Jordan Suckley - Tribal Senses (Extended) [Vandit]
25. Marco V - Run & Hide (Extended Mix) [In Charge]
26. Made Of Light & Zara Taylor - Empty Promises (Extended Mix) [Nocturnal Knights]
27. Bryan Kearney & Out Of The Dust feat. Plumb - Take This (Extended Mix) [Subculture]
28. Tic Tac Trance - Outro [www.TicTacTrance.com]

The radioshow is available at following locations:
->
Soundcloud.com/TicTacTrance
(Stream)
->
Mixcloud.com/TicTacTrance
(Stream)
->
Youtube.com/TicTacTrance
(Stream)