1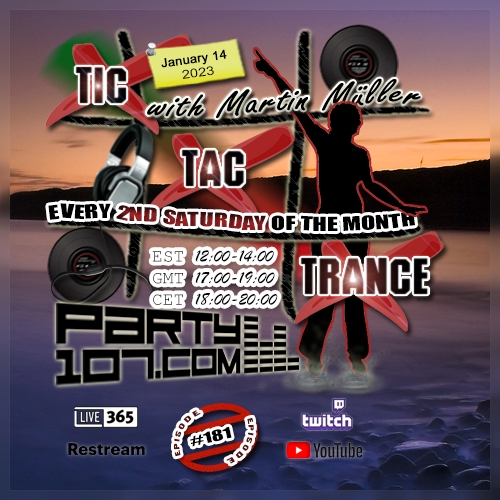 Happy New Year 2023!

Tic Tac Trance is back on January 14 2023!
You can expect for
episode #181 an uplifting 2 hours underground trance mix
, which features tunes and remixes by artists like
Mark Sherry, Giuseppe Ottaviani, Ultimate, XiJaro & Pitch, Lostly
and of course and many many more!
You can support me with
Liking and Subscribing
to my channels
Twitch.tv/TicTacTrance
and
Youtube.com/TicTacTrance
, so you don't miss any updates! The stream will start a couple of mins earlier, check
Facebook.com/TicTacTrance
for more details!
My show will air on January 14 2023 at 18 CET / 17 GMT / 12 EST. Check out your local time
HERE
!

01. Tic Tac Trance - Intro [www.TicTacTrance.com]
02. Vintage & Morelli feat. Arielle Maren - Other Side (Factor B's In Loving Memory Remix) [Monstercat]
03. System F - Adagio For Strings (Extended Mix) [Flashover]
04. Ultimate - Saona (Extended Mix) [Infrasonic Pure]
05. Ralphie B - Extinction (Extended Mix) [In Trance We Trust]
06. Kate Bush - Running Up That Hill (Mark Sherry's 'Stranger Things' Remix) [CDR]
07. Yoshi & Razner, Ria Joyse - Swing 2 Harmony (Extended Mix) [Nocturnal Knights Reworked]
08. Orjan Nilsen - Land Of Mysteries (Extended Mix) [In My Opinion]
09. Asteroid - Free (Extended Mix) [Nocturnal Knights]
10. Steve Hill - Blue Monday (Nicholson's Trancetastic Remix) [Masif]
11. Craig Connelly & James Cottle - Got To Give (Extended Mix) [FSOE]
12. Bicep - Glue (Karney Belfast Bootleg) [CDR]
13. Giuseppe Ottaviani & Sarah De Warren - Melody (OnAir Extended Mix) [Black Hole]
14. XiJaro & Pitch - Tuesday 8PM (Extended Mix) [Nocturnal Knights]
15. Tiesto - Lethal Industry (Scot Project Techno Remix) [CDR]
16. Kaimo K x Jo Cartwright x Andain - Love Beyond Beautiful Things (Kaimo K Mashup) [CDR]
17. Jamie Walker - Lion (Extended Mix) [Subculture]
18. Gareth Emery feat. Sarah De Warren - Calling Home (Yelow Remix) [CDR]
19. OceanLab - Clear Blue Water (Renegade System Rework) [CDR]
20. Scot Project - Set You Free (Advanced Flight Edit) [CDR]
21. Matt Bukovski - Blissful Time (Uplifting Extended Mix) [Monster Pure ]
22. Roman Messer & NoMosk & Christina Novelli - Lost Soul (Extended Full Fire Mix) [Suanda]
23. Lostly - Saudade (Extended Mix) [Subculture]
24. Sam Jones - U Ready? (Original Mix) [Kearnage]
25. The Spacelovers - Space Lover (Sneijder Remix) [CDR]
26. Atlantis - Vengeance (Mac & Monday Extended Remix) [Borderline]
27. Solange UK - Messages (Binary Finary 2023 Remix) [Positive State]
28. Metta & Glyde and Susana - Build A Bridge (Extended Mix) [Amsterdam Trance]
29. Tic Tac Trance - Outro [www.TicTacTrance.com]

The radioshow is available at following locations:
->
Soundcloud.com/TicTacTrance
(Stream)
->
Youtube.com/TicTacTrance
(Stream)
->
Mixcloud.com/TicTacTrance
(Stream) (older episodes)