1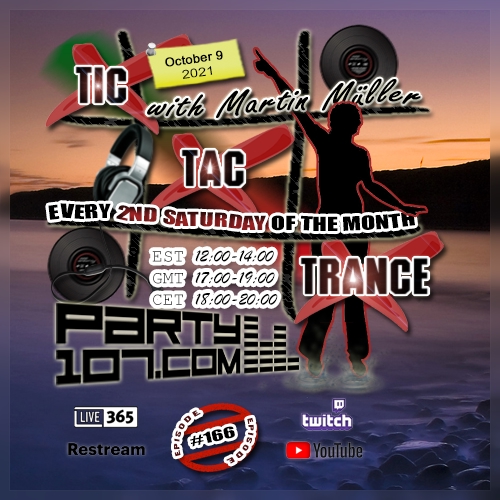 Tic Tac Trance is back on October 9 2021!
You can expect for
episode #166 an uplifting 2 hours underground trance mix
, which features tunes and remixes by artists like
Roger Shah, Gareth Emery, Ferry Corsten, Talla 2XLC, Onova
, and of course and many many more! Since episode #150 you can also watch my radioshow on
Twitch.tv/TicTacTrance
and
Youtube.com/TicTacTrance
! Please subscribe to my twitch and youtube channels, so you don't miss it! The stream will start a couple of mins earlier, check
Facebook.com/TicTacTrance
for more details!
My show will air on October 9 2021 at 18 CET / 17 GMT / 12 EST. Check out your local time
HERE
!

01. Tic Tac Trance - Intro [www.TicTacTrance.com]
02. Karanda - Longing (Intro Mix) [Enhanced Progressive]
03. Sunlounger - Sunflower Fields (Extended Club Mix) [FSOE]
04. Nitrous Oxide - Code Red (Original Mix) [Oxidised]
05. Matt Lange - Shimmer (Gareth Emery Extended Remix) [isoRhythm]
06. DT8 Project - Hold Me Till The End (Ferry Corsten Extended Remix) [ASOT]
07. First State - Reach Me (Ciaran McAuley Extended Remix) [Nocturnal Knights Reworked]
08. Corti Organ & Linney - Wild (Extended Mix) [Find Your Harmony]
09. Ferry Tayle & Dan Stone - Resilience (Extended Mix) [FSOE Fables]
10. Roger Shah & Yelow - Burasari (Extended Mix) [Deep In Thought]
11. Mauro Picotto - Back To Cali (Talla 2XLC Extended Remix) [Technoclub Retro]
12. Roman Messer & Mike Zaloxx with Jennifer Rene - Lately (Extended Mix) [Suanda]
13. Onova - Sonata (Original Mix) [Ncore]
14. La Bouche - Sweet Dreams (Active State Tech Mix 2021) [CDR]
15. Masters & Nickson feat. Justine Suissa - Out There (Sean Tyas Extended Remix) [Who's Afraid Of 138?!]
16. Ruben de Ronde & That Girl - Lose Yourself (Jimmy Chou Extended Mix) [Statement!]
17. Sunlounger & Susie Ledge & Inger Hansen - Run (Extended Club Mix) [FSOE]
18. Paul Miller - Crystal Source 2.1 (Original Mix) [Music En Route]
19. DERB - Derbus (Jody 6 Extended Remix) [Nocturnal Knights Reworked]
20. Elles de Graaf - Lighthouse (Yoshi & Razner Remix) [Amsterdam Trance]
21. Solarstone & Dreams of Wires - Equilibrium (Original Mix) [Pure Trance]
22. Purple Haze - Recover (Extended Mix) [Armind]
23. Christina Novelli & Richard Durand - My Guiding Light (Extended Mix) [Muse Music]
24. Sali - No Comment (BiXX Yes I Did Extended RemiXX) [Beyond The Stars]
25. Yelow - Full Of Questions (Extended Mix) [AVA White]
26. Kenny Palmer - Quel'Danas (BiXX Extended RemiXX) [Trancespired]
27. Peter Steele - Creation (Original Mix) [Pure Trance NEON]
28. Orjan Nilsen - Between The Rays (Orjan Nilsen pres. DJ Governor Extended Remix) [Armada]
29. Astrix & Freedom Fighters - Burning Stones (Simon Patterson Extended Remix) [VII]
30. Tic Tac Trance - Outro [www.TicTacTrance.com]

The radioshow is available at following locations:
->
Soundcloud.com/TicTacTrance
(Stream)
->
Mixcloud.com/TicTacTrance
(Stream)
->
Youtube.com/TicTacTrance
(Stream)