1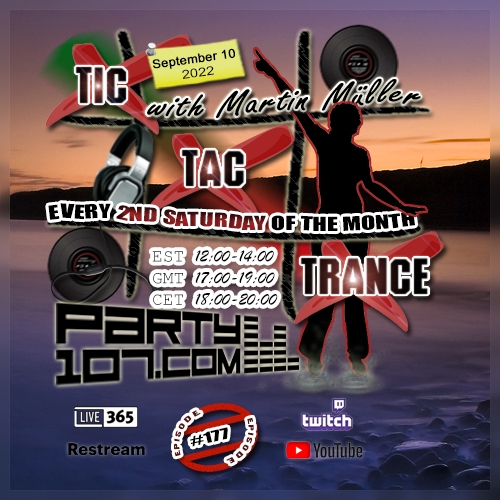 Tic Tac Trance is back on September 10 2022!
You can expect for
episode #177 an uplifting 2 hours underground trance mix
, which features tunes and remixes by artists like
Key4050, Nicholson, Talla 2XLC, Matt Bukovksi, Sean Tyas, Andrea Ribeca
and of course and many many more!
You can support me with
Liking and Subscribing
to my channels
Twitch.tv/TicTacTrance
and
Youtube.com/TicTacTrance
, so you donít miss any updates! The stream will start a couple of mins earlier, check
Facebook.com/TicTacTrance
for more details!
My show will air on September 10 2022 at 18 CET / 17 GMT / 12 EST. Check out your local time
HERE
!

01. Tic Tac Trance - Intro [www.TicTacTrance.com]
02. John Askew - Menace (Extended Mix) [VII]
03. Kristina Sky & Danny Stubbs & Evan Henzi - Rollercoaster (Glynn Alan Extended Dub Mix) [Pure Trance]
04. Talla 2XLC & Alexandra Badoi - Revive My Light (Extended Mix) [That's Trance]
05. Andy Moor - Resurrection (GXD Extended Remix) [AVA]
06. Chris Connolly - Twisted Vinyl (Original 12" Mix) [Tranceform Me]
07. Nitrous Oxide - Stratosphere (Original Mix) [Oxidised]
08. Sean Tyas & Bjorn Akesson - Zahi (Sean Tyas Extended Remix) [Regenerate]
09. Mark Sherry - Gravitational Waves (Systembreaker Extended Remix) [Outburst]
10. Ciaran McAuley - Your Smile (Extended Mix) [Nocturnal Knights]
11. Glynn Alan & Andy Cain - Inception (Extended Mix) [Infrasonic Pure]
12. DJ T.H. & Deirdre McLaughlin - Rain Onto Me (C-Systems Extended Remix) [Digital Society]
13. Paul Prokop - Road To Nowhere (Matt Bukovski Remix) [Sub.Mission]
14. DJ Jose - Hesitate (Lucas Deyong & Jackob Roenald Extended Remix) [Damaged]
15. Tension feat. Julie Harrington - Lost In You (Shugz Extended Remix) [Nocturnal Knights]
16. Sean Truby & South Of The Stars - Myst (Extended Mix) [Nocturnal Knights]
17. BiXX - Connect The Dots (Extended Mix) [High Voltage]
18. Nicholson - Listen To Your Pain (Extended Mix) [High Voltage]
19. RAM & Darren Porrter - The Calling (Xijaro & Pitch Extended Remix) [Nocturnal Knights]
20. Hypaton - Hello Peter (Giuseppe Ottaviani Extended Retouch) [GO Music]
21. Andrea Ribeca - Spielraum (Extended Mix) [FSOE]
22. Roger Shah feat. Adrina Thorpe - Skyline (Roger Shah & Yelow Extended Retouch) [Magic Island Elevate]
23. Pulsedriver - Cambodia (Talla 2XLC Extended Vocal Mix) [Technoclub Retro]
24. Sneijder feat. Victoriya - Need You Here (Extended Mix) [Who's Afraid Of 138?!]
25. Ralphie B & Generdyn feat. KrigarŤ - Destiny (Extended Mix) [Nocturnal Knights Reworked]
26. Pietro Palascino - Euphoria (Extended Mix) [GO Music]
27. Darren Porter & Susana - The Hero In Me (Extended Mix) [Amsterdam Trance]
28. Key4050 - Higher Sense (Original Mix) [Kearnage]
29. Tic Tac Trance - Outro [www.TicTacTrance.com]

The radioshow is available at following locations:
->
Soundcloud.com/TicTacTrance
(Stream)
->
Mixcloud.com/TicTacTrance
(Stream)
->
Youtube.com/TicTacTrance
(Stream)