1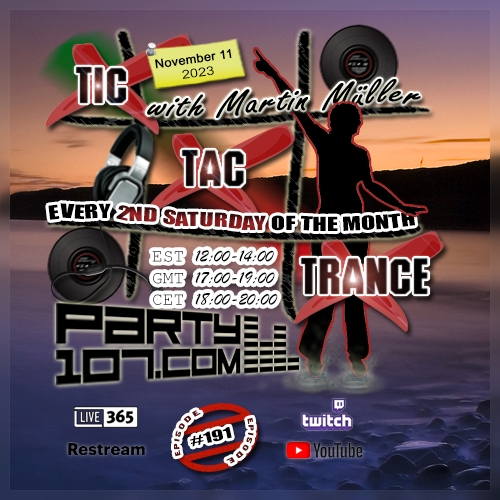 Tic Tac Trance is back on November 11 2023!
You can expect for
episode #191 an uplifting 2 hours underground trance mix
, which features tunes and remixes by artists like
Airwave, Leon Bolier, Ferry Tayle, Ciaran McAuley, Roman Messer, Peter Steele
and of course and many many more!
You can support me with
Liking and Subscribing
to my channels
Twitch.tv/TicTacTrance
and
Youtube.com/TicTacTrance
, so you donít miss any updates! The stream will start a couple of mins earlier, check
Facebook.com/TicTacTrance
for more details!
My show will air on November 11 2023 at 18 CET / 17 GMT / 12 EST. Check out your local time
HERE
!

01. Tic Tac Trance - Intro [www.TicTacTrance.com]
02. Christina Novelli & Linney - Fallen Ones (Extended Mix) [Muse Music]
03. Daxson & XiJaro & Pitch - The Awakening (Transmission Theme 2023) (Extended Mix) [Coldharbour]
04. Leon Bolier - Exoplanet (Extended Mix) [Fables]
05. C-Systems - Unreal (Extended Mix) [ASOT]
06. Peetu S - You Broke Me (Extended Mix) [Outburst]
07. Peter Steele - Archangel (Extended Mix) [Yanada]
08. Cold Blue - A Beautiful Mind (Extended Mix) [Cold Blue Records]
09. Ferry Tayle & Tonks pres. Mirage - Chimera (Extended Mix) [FSOE]
10. Nitrous Oxide - Redmoon (John Rockwell Remix) [Oxidised]
11. Alex M.O.R.P.H. & Faith Mark - Magnificent (Extended Mix) [Nocturnal Knights]
12. Ciaran McAuley - Love Wins (Extended Mix) [Black Hole]
13. RAM - RAMplify (Asteroid Extended Remix) [Nocturnal Knights Reworked]
14. P.O.S - Remember (Nitrous Oxide Respray) [CDR]
15. Roman Messer & Six Mists with Jaki Nelson - Just Be You (Extended Mix) [Suanda Music]
16. Tatana x 88Birds - Black Mirror (Talla 2XLC Extended Remix) [Future Soundz]
17. Nu NRG - Bonsai (Extended Mix) [Armada]
18. Niki Mak & Nicholson & Paul Skelton - Right Before My Eyes (Extended Mix) [Tidy]
19. Darren Porter, BiXX & Natalie Gioia - Cry For Peace (Extended Mix) [Outburst]
20. John O'Callaghan - Flow Through (Extended Mix) [Subculture]
21. John O'Callaghan feat. Audrey Gallagher - Big Sky (Asteroid & Paul Skelton Extended Remix) [Who's Afraid Of 138?!]
22. Bryan Kearney & Plumb - All Over Again (Sean Tyas & David Elston Extended Remix) [Subculture]
23. Airwave - The Wasps (Extended Mix) [Fables]
24. Will Rees - Sanctuary (Original Mix) [Kearnage]
25. Inertia - The Chamber (Greg Downey Extended Remix) [Subculture]
26. Orion's Voice - The Next Life (Peter Steele Remix) [CDR]
27. Rank 1 & Alchimyst - Breathing (Airwave) (Alchimyst Extended Remix) [High Contrast]
28. Ralphie B & Frank Waanders pres. Collide1 - Zero Day (Extended Mix) [FSOE]
29. Tic Tac Trance - Outro [www.TicTacTrance.com]

The radioshow is available at following locations:
->
Soundcloud.com/TicTacTrance
(Stream)
->
Youtube.com/TicTacTrance
(Stream)
->
Mixcloud.com/TicTacTrance
(Stream) (older episodes)