21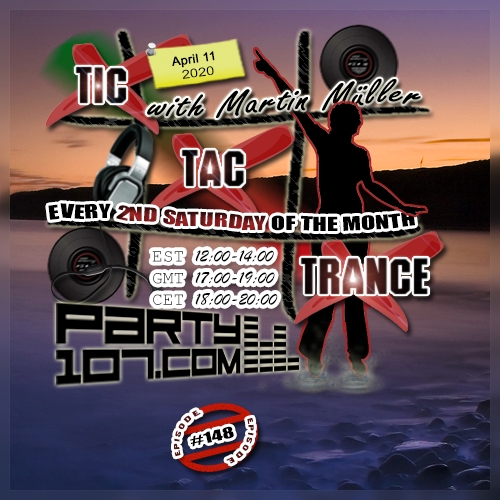 Tic Tac Trance is back on Aprill 11 2020!
You can expect for episode
#148
an
uplifting, psychedelic and techy 2 hours underground trance mix
which features tunes and remixes of artists like
David Forbes, Purple Haze, Nicholson, Jorn van Deynhoven
and many many more! Make sure to tune in!

01. Solarstone - Rain Stars Eternal (RNX Remix) [Pure Progressive]
02. Purple Haze - Strangers Thing (Extended Mix) [Doorn]
03. Stephens & Green - Lexicon (Extended Mix) [Pure Trance]
04. Kyau & Albert - So True (Dan Stone Remix) [Euphonic]
05. Jordan Suckley - Hold Me (Extended Mix) [Pure Trance NEON]
06. Magnus & Dominant Space - Mirage (Extended Mix) [Regenerate]
07. Bush Babies - Delicious (Nicholson's Tidy Two Remix) [Tidy]
08. The Thrillseekers pres. Hydra - Crystalline (Extended Mix) [Adjusted]
09. SMR LVE & Christina Novelli - Sanctuary (Daniel Kandi Extended Remix) [Always Alive]
10. John Askew - Mezcal (Extended Mix) [VII]
11. Sam Jones - Because Of You (Extended Mix) [Skullduggery]
12. Vince Schuld - Disconnected (Cenk Basaran Remix / Greg Downey Rework) [CDR]
13. Beatman & Ludmilla - Walking In The Forest (Extended Mix) [Skullduggery]
14. Exis - Boom Boom Para Para (Extended Mix) [inHarmony]
15. David Forbes - Evolution Of Dance Music (Extended Mix) [Outburst]
16. Maarten de Jong - Intense (Extended Mix) [Who's Afraid Of 138?!]
17. Jorn van Deynhoven & Christina Novelli - Waiting On The Other Side (Extended Club Mix) [Armada Captivating]
18. BiXX - Gregorian Rhapsody (Extended Mix) [Nocturnal Knights Music]
19. Ruben de Ronde & Roxanne Emery - Gold (Richard Durand Extended Remix) [Statement!]
20. Paul van Dyk & Kinetica - First Contact (Original Mix) [Vandit]
21. Giuseppe Ottaviani feat. Tricia McTeague - Only A Heartbeat Away (Extended Mix) [Armind]
22. RAM vs. Alchimyst - Pills & Thrills (Extended Mix) [Nocturnal Knights Fusion]
23. Bryan Kearney & Deirdre McLaughlin - Open My Mind (Sean Tyas Remix) [Kearnage]
24. Andrea Ribeca - Firewire (Andrea Ribeca 2020 Remix) [Azura]
25. FAWZY with Cyril Ryaz & Tiff Lacey - With You (Extended Mix) [Magic Island Elevate]
26. Nitrous Oxide - First Aid (Extended Mix) [Amsterdam Trance ]
27. TiŽsto & Jes - Everything (STANDERWICK Extended Remix) [Magik Muzik]
28. Talla 2XLC - Code 6 (Extended Mix) [That's Trance]
29. David Forbes & Paul Denton - Format (Extended Mix) [Afterdark]
30. Rene Ablaze - Promise (Alex M.O.R.P.H.'s Extended Psychedelic Infusion Remix) [Universal Nation]
31. Robert Nickson - Hello! (Extended Mix) [Pure Trance NEON]

The radioshow is available at following locations:
->
Soundcloud.com/TicTacTrance
(Stream)
->
Mixcloud.com/TicTacTrance
(Stream)