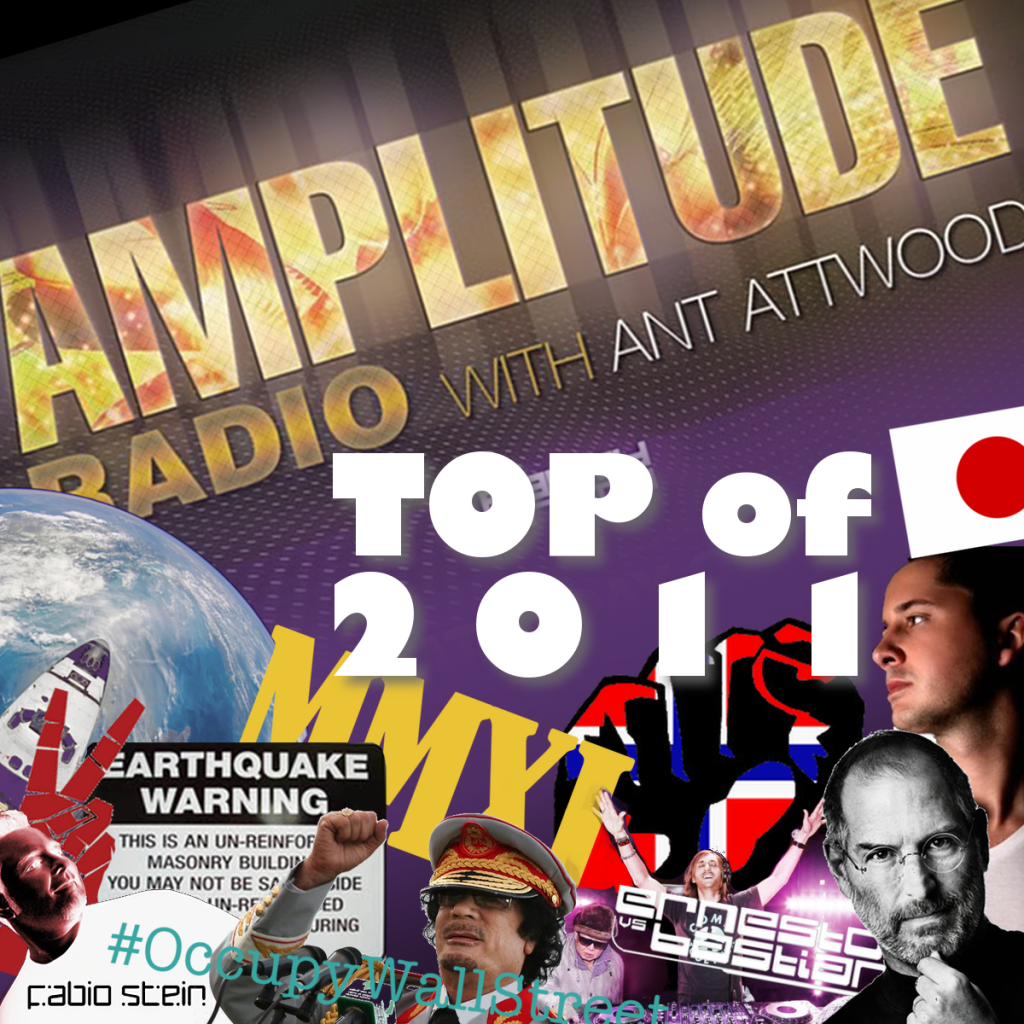 Amplitude Radio Top 50 of 2011
LIVE
Saturday 24th December 2011
5pm GMT
6pm CET
12pm EST
I know I have been slack with tracklist posts on this forum of late but a top 50 show is something Phil (my former DESTINATION:trance host) and I have been famous for over the years. Sadly I could not tempt Phil out of radioshow retirement to do this one but, it still doesn't stop me from belting out the best tunes of 2011.
Not only will the show be epic and around 6 hours long (or however long it takes to mix them live on air), there will be shoutouts and shenanigans galore.
Please note that the voting has closed now so I can no longer accept any more votes. However, if you have done all of your Christmas shopping and want to kick back and enjoy some of the finest music of the last revolution of the ol' calender then here is your one stop shop to cover your trance needs. This years chart is going to be quite uplifting. Who said 140 is dead. Also for the very first time in it's history of our annual top 50 shows, the show will be available to listen in 192kbps quality!
Tracklist
50. Matt Hardwick – In My Mind (Sly One vs Jurrane Global Rework)
49. Paul Oakenfold – Southern Sun (Paul Webster Mix)
48. Eugene Karnak – I Love You (Original Mix)
47. Paul Oakenfold – Tokyo (Beatman & Ludmilla Mix)
46. Indecent Kearnage – Mexican Sunrave
45. Ruff Driverz – Dreaming (Neal Scarborough Mix)
44. DJ Ange – Penn Road (Sandeagle Mix)
43. Lisa Lashes – Numero Uno (Indecent Noise Acidfest Mix)
42. K90 – Transformers (Vision Control & Adriz Mix)
41. Indecent Noise & Colin James – Preset Warrior (Original Mix)
40. Simon Patterson – Mood Swing (OIriginal Mix)
39. Lustral – Everytime (Alan Banks Mix)
38. Jamie Walker – Mind Games (Original Mix)
37. Full Tilt – Surrender (Sneijder vs John O'Callaghan Mix)
36. John Askew – Bastard (Original Mix)
35. Six Senses & Factor Six – Microtronic (Gary Heaney Mix)
34. Ralph Novell – Odyssey (Ian Buff Mix)
33. Bryan Kearney – Backbreaker (Indecent Noise vs Colin James Mix)
32. Soundlift – One Day (Original Mix)
31. TrancEye – Uriel (Original Mix)
30. Simon Patterson – Smack (John Askew Mix)
29. Hughes & Ballantine – Jawbreak-r (Original Mix)
28. Lange & Gareth Emery – This Is New York (Heatbeat Mix)
27. Sly One vs Jurrane pres Protest Movement – You Forget (Original Mix)
26. JOC vs Timmy & Tommy – Talk To Me (Activa pres Solar Movement Mix)
25. Mike Shiver & Matias Lehtola – Slacker (Bjorn Akesson Mix)
24. Will Atkinson – Breathe It (Original Mix)
23. Alex Morph – An Angel's Love (Vocal Mix)
22. John Askew – Torture Chamber (Original Mix)
21. Goldenscan – Sunrise 2011 (Neptune Project Mix)
20. Mark Eteson – Breathe On My Own (Original Mix)
19. A.R.D.I – Memories (Original Mix)
18. Meridian – Shifter (Stonevalley Mix)
17. Sean Tyas – Lift (Matt Skyer Mix Ant Attwood Club Edit)
16. Indecent Kearnage – Too Many Too Mention
15. Mike Levy – Optical Delusion (Gary Maguire Mix)
14. Sektor V vs Depeche Mode & Eric P – Personal Caveman (Indecent Noise Mashup)
13. Paul Oakenfold – Full Moon Party (Original Mix)
12. Aly & Fila – We Control The Sunlight (Original Mix)
11. Bryan Kearney – Ridiculous (Mark Young & Damo Kay Mix)
10. Peter Plaznik – The Warewolf (Original Mix)
09. Simon Patterson feat Lucy Pullin – Keep Quiet (Original Mix)
08. K90 – Red Snapper (Harry Dyer Mix)
07. Aly & Fila – It Will Be Ok (Arctic Moon Mix)
06. Ahmed Romel – Only For You (Arctic Moon Mix)
05. Armin van Buuren – Coming Home (Arctic Moon Mix)
04. Greg Downey & Simon Patterson feat Bo Bruce – Come To Me (Original Mix)
03. Simon Patterson – F16 (Nick Callaghan & Will Atkinson Mix)
02. Bryan Kearney – Stealth Bomber (TrancEye Mix)
01. Arctic Moon - Adelaide (Original Mix)