Manuel Le Saux

Rome, Italy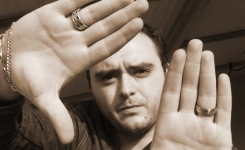 Links:
Manuel Le Saux is at the moment one of most wanted dj in Europe! Manny is dj from 1989 and played in a lot of parties in many Italian clubs like Palladium, Red Zone, Area 51, Exogroove, Hollywood and Cyborg and became one of most popular dj all over the Nation. From 2003 is resident Dj at the biggest Trance venue in Italy called Trance Gate.
With the beginning of the new millenium he started again with producing and from 2006 he signed Tracks for a lot of labels like Bonzai , Recoverworld, Flux Delux, Alter Ego, Diverted and received support from many Top djs like Armin van Buuren, Paul van Dyk and many more.
Nowadays Manuel is continuing on producing, remixing, radio shows and playing gigs. He is conquering a lot of success from his warm fans and from the big trance djs. He was booked for some of biggest event in Europe like ID&T's Tomorrowland [Belgium 2007], EnTrance [Poland 2008], Luminosity Trance Energy Warm Up [Holland 2008]. On TranceAddict Top 250 2007, Manuel reaches position 36 (44 more than the last year).
Recent Sets
More Sets By Manuel Le Saux